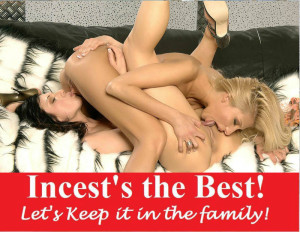 I am here where incest is the best. I believe everyone should keep it in the family. Noone can make a girl cum the way a daddy,brother,uncle or cousin can. Some people say it is because it is completely taboo. Which is very true. However my belief is its just the way the life cycle is suppose to be. 
 My goal before I turn 30 is to get pregnant by my Daddy or Brother. I know we would have some amazingly beautiful brats. I want to have little ones so that way we can raise them and have them to play with and just let the cycle go on and on with the generations to come. 
I was a incest baby so there is nothing with it. My Aunt (Daddys Sister) is my mommy. We get along great together we even get the change to play with one another at least once a month or so. 
My Aunt and Daddy do not play around much anymore but they are always telling stories about back in the day when Daddy use to sneak in her room at night for some late night sisterly play!