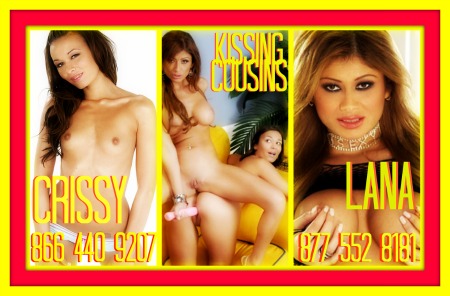 Crissy wanted to do something special this time. She always came up with something that kept our love of each others cunts very interesting indeed. This time she had a rather wicked and naughty time for us planned. So I read her note with express instructions, and getting ready I smiled to myself and grabbed the box she had left me on the table.
We met at the bar where I was to pretend not to know my sweet and sexy cousin. I had opened the box in the car to find the small vibrator boxed and ready to insert into my cunt. Which I did. But before I entered the bar I had to bring myself to cum. Perfect my panties were nice and soaked already by my cunt juice! I ordered a drink and kept my legs open so anyone sitting at one of the many tables could see my panties.
That is when I felt her turn it on. She was no where in sight and one by one, she sent me a new guy to talk to. He would sit next to me and watching me squirm. More than once these handsome strangers would help it along by using his fingers inside my wet juicy cunt pushing that toy in and out. Than after a while, my sexy cousin joined me. We eventually retired to the men's room, where the end stall was forming quite a line!