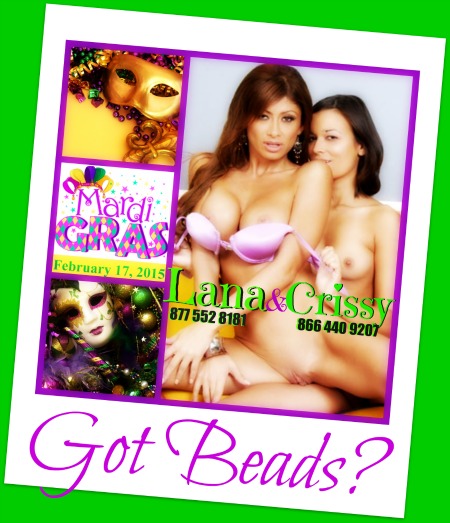 This year Crissy and I are in a race to see just how many strands of beads we can acquire on Mardi Gras, or Fat Tuesday if you prefer. We have always gone out together on this holiday, for years. We wanted to try a friendly wager. Who ever cums back at midnight with the most beads will get to dominate and turn the other into her own personal sex slave! Now Crissy is always the dominant one, I would love to see her face as I bind her to our fucking machine while I go shopping at the mall! Or, keep her bound and naked on our St. Andrew's Cross, and keep our water nozzle aimed at her beautiful clitty. So many dirty things I want to do to her.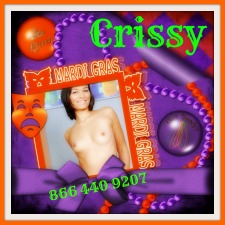 We got ready and headed out to get beads. Kissed each other and agreed on a time to head back with our beads. I was quite excited when I headed over to the one of many strip clubs on my agenda. Getting strands of beads was easy when you had your own private VIP booth. And in the few hours I was there, I showed my tits for one strand, let anyone play with them for three, got my pussy licked and ass hole fucked, that cost ten strands! And if you expected me to swallow your cum after I worked that cock with my tongue, I asked for 15! Needless to say, I had a heavy batch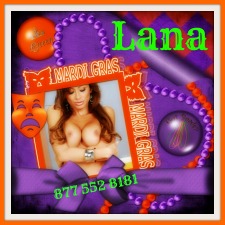 of beads around neck walking into my house. I was sure I had won.
To my pleasant surprise I spotted Crissy's vehicle and I strutted my sweet ass inside. My jaw dropped when I saw the line of guys waiting to fuck my sweet cousin. Cock after cock was pounding her cunt and around her neck were so many strands! Around her ankles, wrists, and even more were being shoved inside her ass! That whore had me beat! She smiled at me as best she could with a cock down her throat, and I got a very wicked idea. It was obvious she was bogged down and overwhelmed with huge cock. She would be here all night. I started filling her ass hole with my beads and got so horny as I slowly stuffed it like a Thanksgiving turkey. I told her since she won, it was only fair I give her the beads I had collected. You know what they say, if you can't beat em, join em!